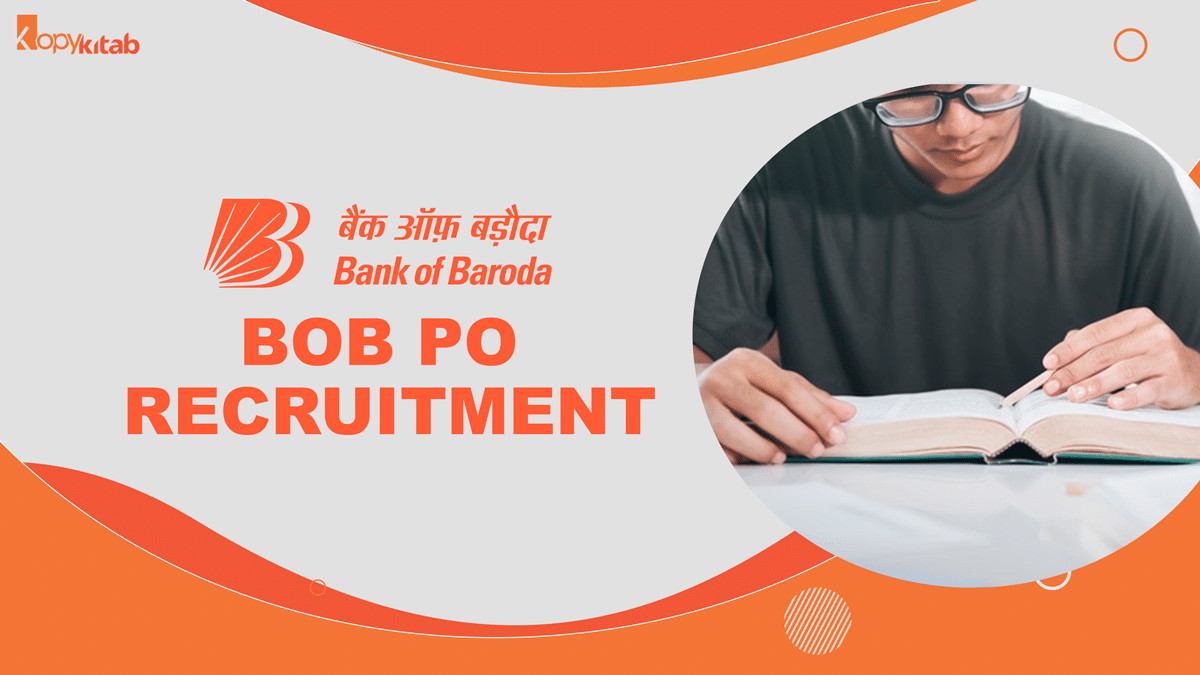 BOB PO Recruitment: BOB, or Bank of Baroda, is a well-known government bank that attracts thousands of job candidates wanting to work in the healthcare industry. BOB is headquartered in Vadodara, Gujarat, and has offices around the country. Each year, a large number of people apply for positions in the Bank of Baroda's Specialist, Probationary, and Clerical cadres. As a result, all applicants who wish to work in the Indian public banking industry should not miss out on learning more about the BOB PO Bank Exam Recruitment 2021.
BOB PO Recruitment 2021: Overview
| | |
| --- | --- |
| Body who takes the exam | IBPS |
| Exam name | BOB Recruitment Exam |
| Application mode | Online |
| Phases | 2 levels (including online Exam and Interview) |
| Official website | https://www.bankofbaroda.in |
| Time Duration | 2 Hours 30 minutes |
BOB PO 2021 Recruitment: Exam Dates (Overview)
| | |
| --- | --- |
| BOB PO 2021 Events | Dates (Tentative) |
| Availability of online application form | April 2021 |
| Closing date to complete registration | May 2021 |
| Payment of application fees/ intimation charges | April to May 2021 |
| Download admit card | 10-15 days before the exam |
| Exam to be Commenced | May 2021 |
| Result | To be notified |
BOB PO Eligibility Criteria 2021
Candidates for this position must have a valid bachelor's degree in any field from a reputable institution or college.

Candidates in the general category must have at least a 55 percent score, while those in the reserved category can apply even if their score is only 50 percent.

Candidates must be between the ages of 20 and 28 as on the date announced by the officials. This is the age restriction for candidates in the general category.
Know More- BOB PO Eligibility Criteria
Age Relaxations
| | |
| --- | --- |
| Category | Relaxation in age limit |
| SC/ ST | 5 years |
| OBC | 3 years |
| Ex-servicemen, Commissioned Officers including Emergency Commissioned Officers (ECOs)/ Short Service Commissioned Officers (SSCOs) | 5 years |
| Persons ordinarily domiciled in the State of Jammu & Kashmir during the period 01.01.1980 to 31.12.1989 | 5 years |
| Persons affected by 1984 riots | 5 years |
| Candidates having Disabilities – SC / ST category | 15 years |
| Candidates having Disabilities – OBC category | 13 years |
| Candidates having Disabilities – General category | 10 years |
BOB PO Recruitment 2021: Vacancy
Because the official BOB PO announcement has not yet been issued, it is difficult to estimate the number of openings. Candidates may simply verify all essential information, including total openings for general and reserved categories, once the official notice is issued. Each applicant group will have a varied number of openings.
| | | | | |
| --- | --- | --- | --- | --- |
| Participating Organization | SC | ST | OBC | UR |
| Bank of Baroda | 90 | 45 | 162 | 303 |
BOB PO Application Form 2021
The important details regarding BOB PO Application Form are given below.
To fill up the BOB PO application form, candidates must have a valid personal email address and phone number.

Only before the application is submitted is it possible to change the details in the application form.

After the application is successfully completed, an email/ SMS containing the registration number and password is delivered to the candidate's registered email address.

Candidates are recommended to print the online application form after finishing the application process. They are not obligated to provide a copy of the printout to the examination authorities.
Click here to get the full procedure to fill up the BOB PO Application Form
BOB PO Recruitment Exam Pattern 2021
Subjects

Total Questions

Total Marks

Medium of Exam

Time Duration

Reasoning & Computer Aptitude

50

75

English & Hindi

150 minutes

General/Economy/Banking Awareness

40

40

Quantitative

40

50

English

35

35

English

Total

165

200

–

English Language (Letter & Essay Writing)

2

50

English

½ hour
There are three stages to the BOB PO Recruitment process:
Level I (online exam)

Level 2 (Descriptive Test)

Level 3 (GD/ Interview)
BOB PO Recruitment: Exam Syllabus 2021
| | |
| --- | --- |
| Quantitative | Partnership, Relations, Volume and Surface Area, Distances and Height, Profit, loss, and discount, Logarithms Permutation and combinations, Percentages, Ratio and proportion, Average, Mixture and allegation, Time and Work, Speed, distance and time, Stocks and shares, Simple and compound interest, Probability, Trigonometry, , Mensuration |
| English | Comprehension Passage completion, Theme detection, Deriving conclusion, Spotting of the errors, Sentence correction, Active/ passive voice, Phrases and idioms, Direct and indirect, Speech Reading, Synonyms, Homonyms, Antonyms, Spelling, Word formation, Idioms and Phrases, Fill in the suitable words, Grammar, Rearrangement of passage |
| General Awareness | Financial & Economic News, Banking terms, rates, processes, National Institution, Monetary Policies, Awareness related to Banking & Financial, Economic Terms, , Government Schemes, Agreement & Deals Current Affairs, Static, GK, |
| Reasoning | Distance and Direction, Ranking , Decoding, Coding, Relations, Inequality, Puzzles, Seating Arrangement – Circular, Square and Linear, Data Sufficiency, Directions and Distance, Syllogism, Machine Input/ Output, Reasoning, Rank, Arrangement and Pattern, Scheduling,  |
| Computer knowledge | Database basics of hacking, Security tools and viruses ,Internet Terms and services, Basic functionalities of MS-Office (MS-word, MS-Excel, MS-PowerPoint), History of computers, Basics of hardware and software, Windows operating system Basics, Networking and communication |
BOB PO Study Material 2021: Download Best Books, Previous Year Paper PDF
BOB PO Recruitment: Admit Card 2021
On the admission card, you'll find all the information you need about the BOB PO' test, including the time and date. The admission card is a vital piece of documentation that contains all of the information that applicants must bring with them to the exam location. When the official notice for the BOB PO test is released, all information on the BOB PO admit card will be provided there as well. At least 15 days prior to the exam date, candidates will be able to download their admit card.
BOB PO Result 2021
The exam results will only be available on the official website. Those who took the exam should check the website frequently to ensure that they do not miss any notifications on the exam's outcomes.
BOB PO Recruitment 2021: Salary, Perks and Allowances
BOB Manipal PO officers are paid according to their salary plan.

A newly recruited PO officer will start with a base wage of INR 23700 and would receive an INR 980 raise after one year.

Other perks for POs include Transportation Allowance, DA, HRA, City Compensatory Allowance, Medical Insurance, and so on.
We have covered everything related to BOB PO Recruitment 2021. If you have any doubts related to the BOB PO Exam, feel free to ask any queries in the comment section below.
FAQs for BOB PO Recruitment 2021
How many openings are there in total for BOB PO Recruitment 2021-22?
The overall number of BOB PO openings is projected to be about 600.
What is the BOB PO Recruitment selection procedure like?
There are two stages to the BOB PO Recruitment. The first phase will be an online exam, and the second will be a group discussion and interview.
What is the minimum age requirement to apply for the BOB PO position?
A candidate's age must be between 20 and 28 years old. There are, however, certain exceptions to the rule.
What is the starting pay for the BOB PO candidates?
BOB PO are paid on a scale of 23700-980×7/30560-1145×2/32850-1310×7/42020.
When is the BOB PO Answer Key going to be released?
After the first stage of the Computer Stage Examination, the BOB PO Answer Key will be published.
When will the BOB PO results be available?
As soon as the results are available, they will be posted on the website.