A. P. J. Abdul Kalam, the former Indian President , the Indian scientist, administrator and 11th President of India was born on October 15, 1931.
School kids in Mumbai have been allowed to come to school without their school bags on former President APJ Abdul Kalam's birthday, October 15. As per the government's order the city schools will carry out a Vaachan Prerna Diwas or Reading Day.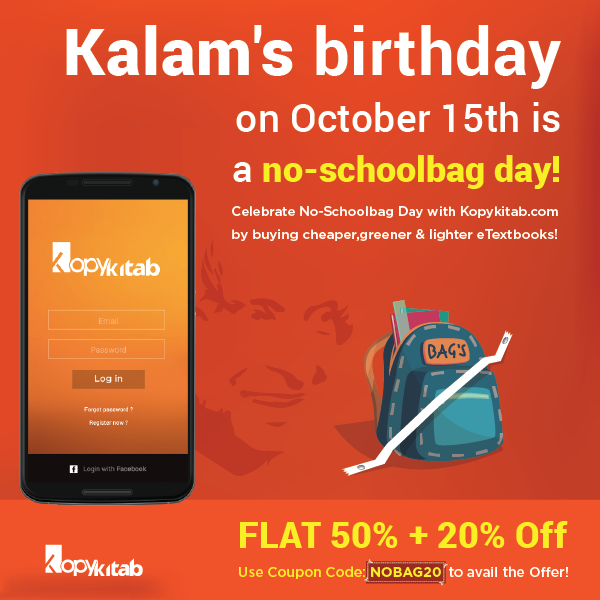 Download CBSE App for free : Class 9  Class 10  Class 11  Class 12
He was one of the loved President the country had and was in return called as the 'People's President' by many. His humble beginning from where he with his dedication and hard work climbed to success is minutely described in his inspirational autobiography, 'Wings of Fire'. He was humble, generous and approachable which made him popular among the youth. On his 83rd birthday, we all India.com would like to share 5 important things about this great scientist.
Dr Kalam's childhood
Being from a poor background, his parents could not afford his schooling and hence he started working at an early age to finance his studies. He distributed newspapers and contributed to the family income. This great scientist was an average student at an early age but was hardworking and showed interest in Mathematics. Although his brains are one among the best in the country he did not meet his professor's academical requirement in college. In fact, it was after Dr Kalam was threatened by his teacher of revoking his scholarship for not submitting a project on time, he worked on it to meet the deadline.
Missile Man of India
Dr Kalam is known as the Missile Man of India  after his work on the development of ballistic missile and launch vehicle technology. He was also the leading figure in India's Pokhran-II nuclear tests in 1998, the first since the original nuclear test by India in 1974. He was an Aerospace engineer with Defence Research Development Organisation (DRDO) and Space Research Organisation (ISRO) before he became the President of India.
Dr Kalam's future ideologies
Dr Kalam's plans for making India a superpower is commendable. His ideas and works for the same was to use India's nuclear weapons program as a way to assert India's place as a future superpower. Until today, he takes interest in science and technology and has proposed to research program for developing bio-implants. Until today, he takes interest in science and technology and has proposed to research program for developing bio-implants. He supports Open Source over proprietary solutions and is of the opinion that use of free software will benefit masses of the nation.
 What Can I Give Movement
Being popular among the youth for his knowledge and ideas on technology, in May 2012 he launched a mission for the youth of the nation, 'What Can I Give Movement'. It was a self governed, self-actuated mission by the students from the schools and colleges in small groups. The singular purpose of the mission was to spread the message of "Giving" among the youth.
Honours and Awards
United Nations recognised his 79th birthday as World Student's Day. He was bestowed with the Padma Bhushan in 1981 and the Padma Vibhushan in 1990 for his work with ISRO and DRDO by the Government of India. He was also honoured with Bharat Ratna for his contribution to the scientific research and modernisation of defence technology in India. Switzerland in 2005, declared May 26 as Science Day to commemorate Dr Kalam's visit  to the country.