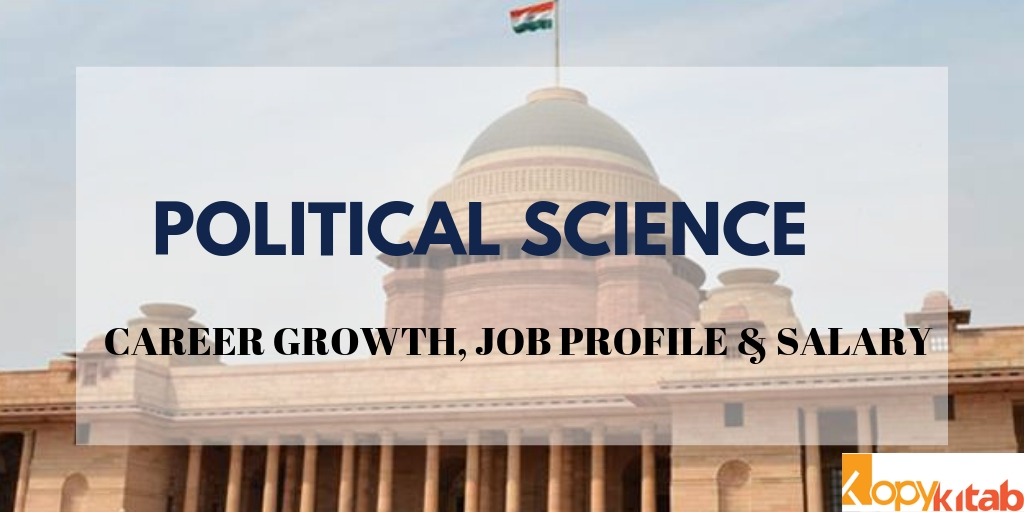 Political science is a social science which deals with systems of governance, and the analysis of political activities, political thoughts, and political behavior. It deals extensively with the theory and practice of politics which is commonly known as determining the distribution of power and resources. Politics is one of the fastest emerging career fields among today's young generation. Politics is the way that people living in groups make decisions. In our day to day life, the term 'politics' refers to the way that government makes rules and laws for governing the countries.
The people who are politically active and holding a position within a government through elections are called Politicians. Political Science/Political Studies/Public Administration is the field of study of politics in Universities/institutions. A politician is not only a representative of the people, but he is also involved in the lawmaking process by supporting the bills and ordinances. To become a politician, he/she needs to have certain skills like
excellent communication skills
Understanding political scenarios is required.
Team working skills as "A good leader is one who can be a good team member".
Ability to interact with diverse populations
Enhance your leadership quality and ideas by following good leaders
Educational Qualifications for Political Science Career
Students who want to make their career in politics, they will have to study political science & history. They can also work as an intern & volunteering and get involved in local issues & campaigns involving the masses.
Degree in political science is available at graduate level, master's level and doctorate levels.
Bachelor's courses
Bachelor of Arts (B.A ) in Political Science
Bachelor of Science (B.Sc) in Political Science
Bachelor of Arts (Honors) in Political Science
Bachelor of Arts (B.A) in Politics
Master's Courses
Master of Arts (M.A) in Political Science
Master of Science (M.Sc) in Politics Research
Master of Arts (M.A) in International Relations and Political Science
Master of Arts (M.A) in Political Science and Public Administration
Post Graduate Courses
Human Rights
Politics and Communication
Politics & Public Policy
International Politics
International Relations
American Politics
Doctoral Degree 
M.Phill in Political Science
M.Phill in Politics
M.Phill in International Politics
Ph.D. in International Politics
Ph.D. in Political Science
Ph.D. in Politics
Job Profile
Political science can be a challenging and rewarding field for people who want to create a life in service of other people. There are several career paths in the field of politics. Interested candidates can make a full-time career in politics.
Aspirants can join politics at any time of their age and at any level of their education. There is no particular academic requirement for joining the politics. As per the constitution of India, minimum age of 25 years is required for contesting the election.
There are two paths to start a political career in Indian Democracy. First, you can join the established party or by joining a new party & working independently.
You can work in an office, manage campaigns, or work in a policy environment. You can also work as an intern for a government agency, an elected official, a non-profit group or a political action committee.
Most political internships are unpaid, but they are very useful in getting the experience you need. Beyond working on a campaign, there are many different jobs in politics, such as working on legislation, political strategists, media relations & public relations positions, pollsters & political consultant's campaign managers & consultants, etc.
Career Growth
A graduate in political science has many attractive career options that include political journalism, civil services, administrative services, political advisors, federal, state and local government, research and teaching. Such candidates can also start their career in the field of law.
To become, MLA, MLC or MP, you are required to start your career in politics with the bottom level.
Get engaged in the political process or join any political party as a volunteer as at the time of election party leaders are always looking for volunteers.
Start analyzing political scenarios of the country and make connections with the political leaders.
Joining student political groups or contesting for elections in unions is the initial step to enter into politics. You have to build your leadership qualities by listening to good leaders and understanding their ideologies. In addition to being a trained communicator, you will need to know the government and the political procedure.
Pay Scale
In the field of political science, salary depends upon the designations and post.  In India, MLA receives an annual salary of 6 lacs. The MLA daily allowance for each day of attending parliament is Rs. 2000. In abroad, the basic annual salary of all MLAs is near around $91,201.00.
If you are looking out to take political science as your career, then read and prepare for examinations with a wide range of Politics Books available with us. We will keep you updated more about career options. Stay tuned.
 [related_books catid="275″ product_type="ebook" algo="Latest"]