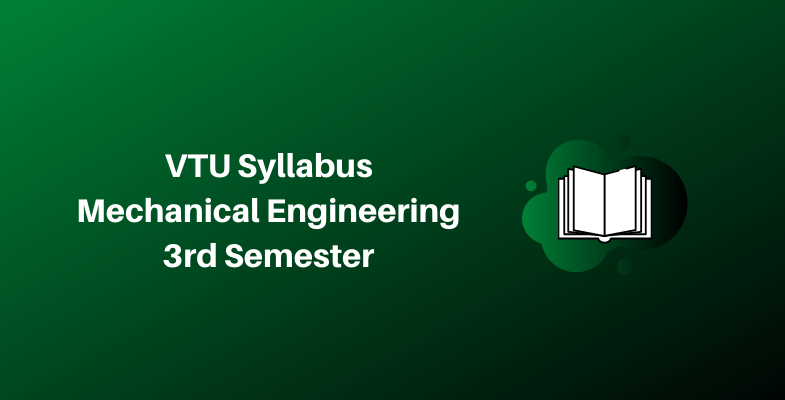 VTU Syllabus Mechanical Engineering 3rd Semester: To prepare the Mechanical Engineering 3rd semester exam, you should have the latest syllabus and marking scheme. You already know the importance of all semesters. It is important to score more in better marks in Mechanical engineering if you need to have a bright career.
Based on the score in Mechanical Engineering degree, you will find better career opportunities. VTU organizes Mechanical Engineering Semester Exams twice a year. If you know the latest VTU Syllabus Mechanical Engineering 3rd Semester then it will be very helpful to prepare for the exam.
In the depth knowledge in every topic of Mechanical Engineering 3rd Semester will also helpful to crack the various competitive exams like Gate, IES, etc.
Here we are providing you the complete guide on VTU Syllabus Mechanical Engineering 3rd Semester 2020 and Marking Scheme.
VTU Syllabus Mechanical Engineering 3rd Semester 2020
You should know that the Syllabus for VTU Mechanical engineering 3rd Semester is designed in a way to provide you a clear understanding of the course structure. With the latest VTU Mechanical 3rd-semester syllabus and marking scheme, you will know the chapters, concepts to be covered in all subjects, and respective weightage in all chapters.
To boost your semester exam preparation, you should have Mechanical 3rd Semester books & study materials, Previous years questions paper along with the latest Mechanical 3rd sem Syllabus.
Before starting the complete guide on VTU Syllabus Mechanical Engineering 3rd Semester 2020, let's check the highlights of VTU from the table below.
VTU Belgaum Highlights
Established year
1998
Approvals
AICTE, UGC, COA( Council of Architecture)
Courses
UG(35), PG(94), Ph.D & Research(592 departments) Quality Improvement Program(13)
Official website
www.vtu.ac.in
Number of Students
+325000
Collaborations
Bosch Rexroth AG-GermanyVirginia

Commonwealth University

University of California

Deshpande Foundation-Startup Center

India Electronics and Semiconductor Association

IBM India Ltd. Bengaluru

Intel Asia. Bengaluru
Check the latest syllabus for VTU Mechanical Engineering 3rd sem from below.
MATERIAL SCIENCE
Module-1
Basics, Mechanical Behavior, Failure of Materials Introduction to Crystal Structure – Coordination number, atomic packing factor, Simple Cubic, BCC, FCC and HCP Structures, Crystal imperfections – point, line, surface and volume imperfections, Atomic Diffusion: Phenomenon, Fick's laws of diffusion;Factors affecting diffusion.
Mechanical Behavior: Stress-strain diagrams showing ductile and brittle behavior of materials, Engineering and true strains, Linear and non- linear elastic behavior and properties, Mechanical properties in plastic range. Stiffness, Yield strength, Offset Yield strength, Ductility, Ultimate Tensile strength, Toughness, Plastic deformation of single crystal by slip and twinning, Mechanisms of strengthening in metals Fracture: Type I, Type II and Type III,
Fatigue: Types of fatigue loading with examples, Mechanism of fatigue, Fatigue properties, S-N diagram, Fatigue testing. Creep: Description of the phenomenon with examples, three stages of creep, creep properties, Stress relaxation. Concept of fracture toughness, numerical on diffusion, strain and stress relaxation.
Module-2
Alloys, Steels, Solidification Concept of formation of alloys: Types of alloys, solid solutions, factors affecting solid solubility (Hume Rothery rules), Binary phase diagrams: Eutectic, and Eutectoid systems, Lever rule, Substitutional and interstitial solid solutions, Intermediate phases, Gibbs phase rule Effect of non- equilibrium cooling, Coring and Homogenization Iron-Carbon (Cementite) diagram: description of phases, Effect of common alloying elements in steel, Common alloy steels, Stainless steel, Tool steel, Specifications of steels. Solidification: Mechanism of solidification, Homogenous and Heterogeneous nucleation, Crystal growth, Cast metal structures Solidification of Steels and Cast irons. Numerical on lever rule.
Module-3
Heat Treatment, Ferrous and Non-Ferrous Alloys Heat treating of metals: Time-Temperature-Transformation (TTT) curves, Continuous Cooling Transformation (CCT) curves, Annealing: Recovery, Recrystallization and Grain growth, Types of annealing, Normalizing, Hardening, Tempering, Martempering, Austempering, Concept of hardenability, Factors affecting it hardenability, surface hardening methods: carburizing, cyaniding, nitriding, flame hardening and induction hardening, Age hardening of aluminum-copper alloys and PH steels. Ferrous materials: Properties, Compositions and uses of Grey cast iron, Malleable iron, SG iron and steel.
Module-4
Other Materials, Material Selection Ceramics: Structure types and properties and applications of ceramics. Mechanical / Electrical behavior and processing of Ceramics.
Plastics: Various types of polymers/plastics and their applications. Mechanical behaviors and processing of plastics, Failure of plastics.
Other materials: Brief description of other materials such as optical and thermal materials Smart materials – fiber optic materials, piezo-electrics, shape memory alloys Shape Memory Alloys – Nitinol, superelasticity, Biological applications of smart materials – materials used as implants in human Body, Selection of Materials, Performance of materials in service Residual life assessment – use of non-destructive testing, Economics, Environment and Sustainability.
Module-5
Composite materials – Definition, classification, types of matrix materials & reinforcements,Metal Matrix Composites (MMCs), Ceramic Matrix Composites (CMCs) and Polymer Matrix Composites (PMCs), Particulate-reinforced and fiber- reinforced composites, Fundamentals of production of composites, Processes for production of composites, Characterization of composites, Constitutive relations of composites, Determination of composite properties from component properties, Hybrid composites, Applications of composite materials, Numericals on determining properties of composites.
Text Books :
Smith, Foundations of Materials Science and Engineering, 4th Edition, McGraw Hill, 2009.
William D. Callister, Material science and Engineering and Introduction, Wiley, 2006.
Reference Books :
V. Raghavan, Materials Science and Engineering, , PHI, 2002
Donald R. Askland and Pradeep.P. Phule, The Science and Engineering of Materials, Cengage Learning
George Ellwood Dieter, Mechanical Metallurgy, McGraw-Hill.
ASM Handbooks, American Society of Metals.
Course Outcomes:
Describe the mechanical properties of metals, their alloys and various modes of failure.
2. Understand the microstructures of ferrous and non-ferrous materials to mechanical properties.
3. Explain the processes of heat treatment of various alloys.
4. Understand the properties and potentialities of various materials available and material selection procedures.
5. Know about composite materials and their processing as well as applications.
BASIC THERMODYNAMICS
Module-1
Fundamental Concepts & Definitions : Thermodynamic definition and scope, Microscopic and Macroscopic approaches. Some practical applications of engineering thermodynamic Systems, Characteristics of system boundary and control surface, examples. Thermodynamic properties; definition and units, intensive , extensive properties, specific properties, pressure, specific volume Thermodynamic state, state point, state diagram, path and process, quasi-static process, cyclic and non-cyclic; processes;Thermodynamic equilibrium; definition, mechanical equilibrium; diathermic wall, thermal equilibrium, chemical equilibrium, Zeroth law of thermodynamics, Temperature; concepts, scales, international fixed points and measurement of temperature. Constant volume gas thermometer, constant pressure gas thermometer, mercury in glass thermometer
Work and Heat: Mechanics, definition of work and its limitations. Thermodynamic definition of work; examples, sign convention. Displacement work; as a part of a system boundary, as a whole of a system boundary, expressions for displacement work in various processes through p-v diagrams. Shaft work; Electrical work.Other types of work.Heat; definition, units and sign convention.
Module-2
First Law of Thermodynamics: Joules experiments, equivalence of heat and work. Statement of the First law of thermodynamics, extension of the First law to non – cyclic processes, energy, energy as a property, modes of energy, Extension of the First law to control volume; steady flow energy equation(SFEE), important applications. Second Law of Thermodynamics: limitations of first law of thermodynamics Devices converting heat to work; (a) in a thermodynamic cycle, (b) in a mechanical cycle. Thermal reservoir,Direct heat engine; schematic representation and efficiency. Devices converting work to heat in a thermodynamic cycle; reversed heat engine, schematic representation, coefficients of performance. Kelvin – Planck statement of the Second law of Thermodynamics; PMM I and PMM II, Clausius statement of Second law of Thermodynamics, Equivalence of the two statements; Carnot cycle, Carnot principles. Problems
Module-3
Reversibility: Definitions of a reversible process, reversible heat engine, importance and superiority of a reversible heat engine and irreversible processes; factors that make a process irreversible, reversible heat engines. Unresisted expansion, remarks on Carnot's engine, internal and external reversibility, Definition of the thermodynamic temperature scale. Problems Entropy: Clasius inequality, Statement- proof, Entropy- definition, a property, change of entropy, entropy as a quantitative test for irreversibility, principle of increase in entropy, calculation of entropy using Tds relations, entropy as a coordinate.
Module-4
Availability, Irreversibility and General Thermodynamic relations.Introduction, Availability (Exergy), Unavailable energy (anergy), Relation between increase in unavailable energy and increase in entropy.Maximum work, maximum useful work for a system and control volume, irreversibility, second law efficiency (effectiveness). Gibbs and Helmholtz functions, Maxwell relations, Clapeyron equation, Joule Thomson coefficient, general relations for change in entropy, enthalpy , internal energy and specific heats.
Pure Substances: P-T and P-V diagrams, triple point and critical points. Sub-cooled liquid, saturated liquid, mixture of saturated liquid and vapor, saturated vapor and superheated vapor states of pure substance with water as example. Enthalpy of change of phase (Latent heat).Dryness fraction (quality), T-S and H-S diagrams, representation of various processes on these diagrams.Steam tables and its use.Throttling calorimeter, separating and throttling calorimeter.
Module-5
Ideal gases: Ideal gas mixtures, Daltons law of partial pressures, Amagat's law of additive volumes, evaluation of properties of perfect and ideal gases, Air- Water mixtures and related properties, Psychrometric properties, Construction and use of Psychrometric chart. Real gases – Introduction , Air water mixture and related properties, Van-der Waal's Equation of state, Van-der Waal's constants in terms of critical properties, Redlich and Kwong equation of state Beattie-Bridgeman equation , Law of corresponding states, compressibility factor; compressibility chart.Difference between Ideal and real gases.
Text Books:
Basic Engineering Thermodynamics, A.Venkatesh, Universities Press, 2008
Basic and Applied Thermodynamics, P.K.Nag, 2nd Ed., Tata McGraw Hill Pub. 2002
Reference Books:
Thermodynamics, An Engineering Approach, Yunus A.Cenegal and Michael A.Boles, Tata McGraw Hill publications
Engineering Thermodynamics, J.B.Jones and G.A.Hawkins, John Wiley and Sons
Fundamentals of Classical Thermodynamics, G.J.VanWylen and R.E.Sonntag, Wiley Eastern.
An Introduction to Thermodynamcis, Y.V.C.Rao, Wiley Eastern, 1993
B.K Venkanna, Swati B. Wadavadagi "Basic Thermodynamics, PHI, New Delhi, 2010
Course Outcomes:
Explain thermodynamic systems, properties, Zeroth law of thermodynamics, temperature scales and energy interactions.
2. Determine heat, work, internal energy, enthalpy for flow & non flow process using First and Second Law of Thermodynamics. Interpret behavior of pure substances and its applications to practical problems.
MECHANICS OF MATERIALS
Module-1
Stress and Strain: Introduction, Hooke's law, Calculation of stresses in straight, Stepped and tapered sections, Composite sections, Stresses due to temperature change, Shear stress and strain, Lateral strain and Poisson's ratio, Generalized Hooke's law, Bulk modulus, Relationship between elastic constants.
Module-2
Analysis of Stress and Strain: Plane stress, Stresses on inclined planes, Principal stresses and maximum shear stress, Principal angles, Shear stresses on principal planes, Maximum shear tress, Mohr circle for plane stress conditions.Cylinders: Thin cylinder: Hoop's stress, maximum shear stress, circumferential and longitudinal strains, Thick cylinders: Lames equations.
Module-3
Shear Forces and Bending Moments: Type of beams, Loads and reactions, Relationship between loads, shear forces and bending moments, Shear force and bending moments of cantilever beams, Pin support and roller supported beams subjected to concentrated loads and uniformly distributed constant / varying loads.
Stress in Beams: Pure bending, Curvature of a beam, Longitudinal strains in beams, Normal stresses in Beams with rectangular, circular,'I' and 'T' cross sections, Flexure Formula, Bending Stresses, Deflection of beams (Curvature).
Module-4
Torsion: Circular solid and hallow shafts, Torsional moment of resistance, Power transmission of straight and stepped shafts, Twist in shaft sections, Thin tubular sections, Thin walled sections
Columns: Buckling and stability, Critical load, Columns with pinned ends, Columns with other support conditions, Effective length of columns, Secant formula for columns.
Module-5
Strain Energy: Castigliano's theorem I and II, Load deformation diagram, Strain energy due to normal stresses, Shear stresses, Modulus of resilience, Strain energy due to bending and torsion.
Theories of Failure: Maximum Principal stress theory, Maximum shear stress theory.
Text Books:
James M Gere, Barry J Goodno, Strength of Materials, Indian Edition, Cengage Learning, 2009.
R Subramanian, Strength of Materials, Oxford, 2005.
Reference Books:
S S Rattan, Strength of Materials, Second Edition, McGraw Hill, 2011.
Ferdinand Beer and Russell Johston, Mechanics of materials, Tata McGraw Hill, 2003.
Course Outcomes:
Classify the stresses into various categories and define elastic properties of materials and compute stress and strain intensities caused by applied loads in simple and compound sections and temperature changes.
2. Derive the equations for principal stress and maximum in-plane shear stress and calculate their magnitude and direction. Draw Mohr circle for plane stress system and interpret this circle.
3. Determine the shear force, bending moment and draw shear force and bending moment diagrams, describe behavior of beams under lateral loads.
4. Explain the structural behavior of members subjected to torque, Calculate twist and stress induced in shafts
subjected to bending and torsion.
5. Understand the concept of stability and derive crippling loads for columns.
6. Understand the concept of strain energy and compute strain energy for applied loads.
METAL CASTING AND WELDING
Module-1
Introduction : Definition, Classification of manufacturing processes. Metals cast in the foundry-classification, factors that determine the selection of a casting alloy.
Introduction to casting process & steps involved. Patterns: Definition, classification, materials used for pattern, various pattern allowances and their importance.
Sand molding: Types of base sand, requirement of base sand. Binder, Additives definition, need and types
Preparation of sand molds: Molding machines- Jolt type, squeeze type and Sand slinger. Study of important molding process: Green sand, core sand, dry sand, sweep mold, CO2 mold, shell mold, investment mold, plaster mold, cement bonded mold.Cores: Definition, need, types. Method of making cores, concept of gating (top, bottom, parting line, horn gate) and risering (open, blind) Functions and types.
Module-2
Melting & Metal Mold Casting Methods-Melting furnaces: Classification of furnaces, Gas fired pit furnace, Resistance furnace, Coreless induction furnace, electric arc furnace, constructional features & working principle of cupola furnace.
Casting using metal molds: Gravity die casting, pressure die casting, centrifugal casting, squeeze casting, slush casting, thixocasting, and continuous casting processes.
Module-3
Solidification & Non Ferrous Foundry Practice
Solidification: Definition, Nucleation, solidification variables, Directional solidification-need and methods. Degasification in liquid metals-Sources of gas, degasification methods. Fettling and cleaning of castings: Basic steps involved. Sand Casting defects- causes, features and remedies. Advantages & limitations of casting process
Nonferrous foundry practice: Aluminum castings – Advantages, limitations, melting of aluminum using lift-out type crucible furnace. Hardeners used, drossing, gas absorption, fluxing and flushing, grain refining, pouring temperature. Stir casting set up, procedure, uses, advantages and limitations.
Module-4
Welding process: Definition, Principles, Classification, Application, Advantages & limitations of welding. Arc welding: Principle, Metal arc welding (MAW), Flux Shielded Metal Arc Welding (FSMAW), Inert Gas Welding (TIG & MIG) Submerged Arc Welding (SAW) and Atomic Hydrogen Welding (AHW).
Special type of welding: Resistance welding principles, Seam welding, Butt welding, Spot welding and Projection welding. Friction welding, Explosive welding, Thermit welding, Laser welding and electron beam welding.
Module-5
Soldering, Brazing And Metallurgical Aspects In Welding
Structure of welds, Formation of different zones during welding, Heat Affected Zone (HAZ), Parameters affecting HAZ. Effect of carbon content on structure and properties of steel, Shrinkage in welds& Residual stresses, Concept of electrodes, filler rod and fluxes. Welding defects- Detection, causes & remedy.
Soldering, brazing, gas welding: Soldering, Brazing, Gas Welding: Principle, oxy-Acetylene welding, oxy-hydrogen welding, air-acetylene welding, Gas cutting, powder cutting.
Inspection methods: Methods used for inspection of casting and welding. Visual, magnetic particle, fluorescent particle, ultrasonic.Radiography, eddy current, holography methods of inspection.
Text Books:
"Manufacturing Process-I", Dr.K.Radhakrishna, Sapna Book House,5th Revised Edition 2009.
"Manufacturing & Technology: Foundry Forming and Welding",P.N.Rao, 3rd Ed., Tata McGraw Hill, 2003.
Reference Books:
"Process and Materials of Manufacturing", Roy A Lindberg, 4th Ed.Pearson Edu. 2006.
"Manufacturing Technology", SeropeKalpakjian, Steuen. R. Sechmid,Pearson Education Asia, 5th Ed. 2006.
"Principles of metal casting", Rechard W. Heine, Carl R. LoperJr.,Philip C. Rosenthal, Tata McGraw Hill
Course Outcomes:
To provide detailed information about the moulding processes.
2. To provide knowledge of various casting process in manufacturing.
3. To impart knowledge of various joining process used in manufacturing.
4. To provide adequate knowledge of quality test methods conducted on welded and casted components.
MACHINE TOOLS AND OPERATIONS
Module-1
Machine Tools-Introduction, Classification, construction and specifications of lathe, drilling machine, milling machine, boring machine, broaching machine, shaping machine, planing machine, grinding machine [Simple sketches showing major parts of the machines]
Module-2
Machining Processes: Introduction, Types of motions in machining, turning and Boring, Shaping, Planing and Slotting, Thread cutting, Drilling and reaming, Milling, Broaching, Gear cutting and Grinding, Machining parameters and related quantities.
[Sketches pertaining to relative motions between tool and work piece only]
Module-3
Cutting Tool Materials, Geometry And Surface Finish
Introduction, desirable Properties and Characteristics of cutting tool materials, cutting tool geometry, cutting fluids and its applications, surface finish, effect of machining parameters on surface finish.
Machining equations for cutting operations: Turning, Shaping, Planing, slab milling, cylindrical grinding and internal grinding, Numerical Problems.
Module-4
Mechanics Of Machining Processes: Introduction, Chip formation, Orthogonal cutting, Merchants model for orthogonal cutting, Oblique cutting, Mechanics of turning process, Mechanics of drilling process, Mechanics of milling process, Numerical problems.
Module-5
Tool Wear, Tool Life: Introduction, tool wear mechanism, tool wear equations, tool life equations, effect of process parameters on tool life, machinability, Numerical problems
ECONOMICS OF MACHNING PROCESSES: Introduction, choice of feed, choice of cutting speed, tool life for minimum cost and minimum production time, machining at maximum efficiency, Numerical problems.
Text Books:
Fundamentals of metal cutting and Machine Tools, B.L. Juneja, G.S. Sekhon and Nitin Seth, New Age
International Publishers 2nd Edition, 2003
All about Machine Tools, Heinrich Gerling, New Age International Publishers revised 2nd Edition, 2006
Reference Books:
Fundamental of Machining and Machine Tools, Geoffrey Boothroyd and Winston A. Knight, CRC Taylor& Francis, Third Edition.
Metal cutting principles, Milton C. Shaw, Oxford University Press, Second Edition,2005.
Course Outcomes:
Explain the construction & specification of various machine tools.
2. Describe various machining processes pertaining to relative motions between tool & work piece. Discuss different cutting tool materials, tool nomenclature & surface finish.
3. Apply mechanics of machining process to evaluate machining time.
4. Analyze tool wear mechanisms and equations to enhance tool life and minimize machining cost.
COMPUTER AIDED MACHINE DRAWING
Module-1
Sections of Solids: Sections of Pyramids, Prisms, Cubes, Tetrahedrons, Cones and Cylinders resting only on their bases (No problems on, axis inclinations, spheres and hollow solids), True shape of section. 04 Hours Orthographic views:Conversion of pictorial views into orthographic projections of simple machine partswith or without section. (Bureau of Indian Standards conventions are to be followed for the drawings), Hidden line conventions, Precedence of lines.
Module-2
Thread forms: Thread terminology, sectional views of threads. ISO Metric (Internal & External), BSW (Internal and
External), square, Acme and Sellers thread, American Standard thread.
Fasteners: Hexagonal headed bolt and nut with washer (assembly), square headed bolt and nut with washer (assembly) simple assembly using stud bolts with nut and lock nut. Flanged nut, slotted nut, taper and split pin for locking, counter sunk head screw, grub screw, Allen screw.
Module-3
Keys and Joints: Parallel, Taper, Feather Key, Gib head key and Woodruff key.
Riveted joints: Single and double riveted lap joints, Butt joints with single/double cover straps (Chain and zigzag using snap head riveters).
Joints:Cotter joint (socket and spigot), Knuckle joint (pin joint) for two rods.
Module-4
Couplings: Split muff coupling, Protected type flange coupling, Pin (bush) type flexible coupling, Oldham's coupling and Universal coupling (Hook's Joint).
Limits, Fits and Tolerances: Introduction, Fundamental tolerances, Deviations, Methods of placing limit dimensions, Types of fits with symbols and applications, Geometrical tolerances on drawings, Standards followed in industry.
Text Books:
1. 'A Primer on Computer Aided Machine Drawing-2007', Published by VTU, Belgaum.
2. 'Machine Drawing', N.D.Bhat&V.M.Panchal, Published by Charotar Publishing House, 1999.
3. 'Machine Drawing', N.Siddeshwar, P.Kannaih, V.V.S. Sastri, published by Tata MGrawhill, 2006.
Reference Books:
1. "A Text Book of Computer Aided Machine Drawing", S. Trymbakaa Murthy, CBS Publishers, New Delhi
2. 'Machine Drawing', K.R. Gopala Krishna, Subhash publicatio
Course Outcomes:
Sections of pyramids, prisms, cubes, cones and cylinders resting on their bases in 2D.
2. Orthographic views of machine parts with and without sectioning in 2D.
3. Sectional views for threads with terminologies of ISO Metric, BSW, square and acme, sellers and American standard threads in 2D.
4. Sketch split muff, protected type flanged, pin type flexible, Oldham's and universal couplings in 2D
5. Parallel key, Taper key, and Woodruff Key as per the ISO standards in 2D
6. Single and double riveted lap joints, butt joints with single/double cover straps, cotter and knuckle joint for two rods in 2D
7. Hexagonal and square headed bolt and nut with washer, stud bolts with nut and lock nut, flanged nut, slotted nut, taper and split pin for locking counter sunk head screw, grub screw, Allen screw assemblies in 2D.
MECHANICAL MEASUREMENTS AND METROLOGY
Module-1
Introduction to Metrology: Definition, objectives and concept of metrology, Need of inspection, Principles, process, methods of measurement, Classification and selection of measuring instruments and systems. Accuracy, precision and errors in measurement.
System of measurement, Material Standard, Wavelength Standards, Subdivision of standards, Line and End standards, Classification of standards and Traceability, calibration of End bars(Numericals), standardization.
Linear Measurement and angular measurements:
Slip gauges- Indian standards on slip gauge, method of selection of slip gauge, stack of slip gauge, adjustable slip gauge, wringing of slip gauge, care of slip gauge, slip gauge accessories, problems on building of slip gauges (M87, M112). Measurement of angles- sine bar, sine center, angle gauges, optical instruments for angular measurements, Auto collimator-applications for measuring straightness and squareness.
Module-2
System of Limits, Fits, Tolerance and Gauging: Definition of tolerance, Specification in assembly, Principle of interchangeability and selective assembly, limits of size, Indian standards, concept of limits of size and tolerances, definition of fits, hole basis system, shaft basis system, types of fits and their designation (IS 919-1963), geometric tolerance, position-tolerances.
Classification of gauges, brief concept of design of gauges (Taylor's principles), Wear allowance on gauges, Types of gauges-plain plug gauge, ring gauge, snap gauge, limit gauge and gauge materials.
Comparators: Functional requirements, classification, mechanical- Johnson Mikrokator, sigma comparators, dial indicator, electrical- principles, , LVDT, Pneumatic- back pressure gauges, solex comparators and optical comparators- Zeiss ultra-optimeter.
Module-3
Measurement of screw thread and gear: Terminology of screw threads, measurement of major diameter, minor diameter, pitch, angle and effective diameter of screw threads by 2-wire and 3- wire methods, best size wire. Screw thread gauges,Tool maker's microscope.
Gear tooth terminology, tooth thickness measurement using constant chord method, addendum comparator method and base tangent method, measurement of pitch, concentricity, run out, and involute profile. Gear roll tester for composite error.
Advances in metrology: Basic concepts of lasers, advantages of lasers, laser interferometers, types, applications. Basic concepts of Coordinate Measuring Machines-constructional features, applications.
Module-4
Measurement systems and basic concepts of measurement methods: Definition, significance of measurement, generalized measurement system, definitions and concept of accuracy, precision, calibration, threshold, sensitivity, hysteresis, repeatability, linearity, loading effect, system response-time delay. Errors in measurement, classification of errors.Transducers, transfer efficiency, primary and secondary transducers, electrical, mechanical, electronic transducers, advantages of each type transducers.
Intermediate modifying and terminating devices: Mechanical systems, inherent problems, electrical intermediate modifying devices, input circuitry, ballast circuit, electronic amplifiers. Terminating devices, Cathode ray oscilloscope, Oscillographs.
Module-5
Force, Torque and Pressure Measurement: Direct methods and indirect method, force measuring inst. Torque measuring inst., Types of dynamometers, Absorption dynamometer, Prony brake and rope brake dynamometer, and power measuring instruments.Pressure measurement, principle, use of elastic members, Bridgeman gauge, McLeod gauge, Pirani gauge.
Measurement of strain and temperature: Theory of strain gauges, types, electrical resistance strain gauge, preparation and mounting of strain gauges, gauge factor, methods of strain measurement. Temperature Compensation, Wheatstone bridge circuit, orientation of strain gauges for force and torque, Strain gauge bBASED load cells and torque sensors.
Text Books:
Mechanical Measurements, Beckwith Marangoni and Lienhard, Pearson Education, 6th Ed., 2006.
Engineering Metrology, R.K. Jain, Khanna Publishers, Delhi, 2009.
Reference Books:
Engineering Metrology and Measurements, Bentley, Pearson Educatio
Theory and Design for Mechanical Measurements,III edition, Richard S Figliola, Donald E Beasley, WILEY India Publishers.
 Engineering Metrology, Gupta I.C., Dhanpat Rai Publications.
 Deoblin's Measurement system, Ernest Deoblin, Dhanesh manick, McGraw –Hill.
Engineering Metrology and Measurements,N.V.Raghavendra and L.Krishnamurthy, Oxford University Press.
Course Outcomes:
Understand metrology, its advancements & measuring instruments,
2. Acquire knowledge on different standards of length, calibration of End Bars, linear and angular measurements, Screw thread and gear measurement & comparators.
3. Equip with knowledge of limits, fits, tolerances and gauging.
4. Acquire knowledge of measurement systems and methods with emphasis on different transducers, intermediate modifying and terminating devices.
5. Understand the measurement of Force, Torque, Pressure, Temperature and Strain.
MATERIALS TESTING LAB
Experiments:
Preparation of specimen for Metallographic examination of different engineering materials.To report microstructures of plain carbon steel, tool steel, gray C.I, SG iron, Brass, Bronze & composites.
2. Heat treatment: Annealing, normalizing, hardening and tempering of steel. Metallographic specimens of heat treated components to be supplied and students should report microstructures of furnace cooled,water cooled, air cooled, tempered steel
3. Brinell, Rockwell and Vickers's Hardness tests on untreated and heat treated specimens.
4. To study the defects of Cast and Welded components using
Non-destructive tests like: a) Ultrasonic flaw detection b) Magnetic crack detection c) Dye penetration testing.
5. Tensile, shear and compression tests of steel, aluminum and cast iron specimens using Universal Testing Machine
6. Torsion Test on steel bar.
7. Bending Test on steel and wood specimens.
8. Izod and Charpy Tests on Mild steel and C.I Specimen.
9. To study the wear characteristics of ferrous and non-ferrous materials under different parameters.
10. Fatigue Test (demonstration only).
Course Outcomes:
Acquire experimentation skills in the field of material testing.
2. 2.Develop theoretical understanding of the mechanical properties of materials by performing experiments.
3. Apply the knowledge to analyze a material failure and determine the failure inducing agent/s.
4. Apply the knowledge of testing methods in related areas.
5. Know how to improve structure/behavior of materials for various industrial applications.
MECHANICAL MEASUREMENTS AND METROLOGY LAB
Experiments:
PART-A: MECHANICAL MEASUREMENTS
Calibration of Pressure Gauge
2. Calibration of Thermocouple
3. Calibration of LVDT
4. Calibration of Load cell
PART-B: METROLOGY
Measurements using Optical Projector / Toolmaker Microscope.
2. Measurement of angle using Sine Center / Sine bar / bevel protractor
3. Measurement of alignment using Autocollimator / Roller set
4. Measurement of cutting tool forces using a) Lathe tool Dynamometer OR
(a) Lathe tool Dynamometer OR (b) Drill tool Dynamometer.
Measurements of Screw thread Parameters using two wire or Three-wire methods.
6. Measurements of Surface roughness, Using Tally Surf/Mechanical Comparator
7. Measurement of gear tooth profile using gear tooth Vernier /Gear tooth micrometer
8. Calibration of Micrometer using slip gauges
9. Measurement using Optical Flats
Course Outcomes:
To illustrate the theoretical concepts taught in Mechanical Measurements & Metrology through experiments.
2. To illustrate the use of various measuring tools measuring techniques.
3. To understand calibration techniques of various measuring devices.
MACHINE SHOP
PART – A
Preparation of three models on lathe involving
Plain turning, Taper turning, Step turning, Thread cutting, Facing, Knurling, Drilling, Boring, Internal Thread cutting and
Eccentric turning.
PART – B
Cutting of V Groove/ dovetail / Rectangular groove using a shaper
Cutting of Gear Teeth using Milling Machine
PART –C
For demonstration
Demonstration of formation of cutting parameters of single point cutting tool using bench grinder / tool & cutter grinder. Demonstration of surface milling /slot milling
Course Outcomes:
To provide an insight to different machine tools, accessories and attachments.
To train students into machining operations to enrich their practical skills.
3. To inculcate team qualities and expose students to shop floor activities.
4. To educate students about ethical , environmental and safety standards.
We have covered the complete guide on VTU Syllabus Mechanical Engineering 3rd Semester 2020. Feel free to ask us any questions related to VTU Syllabus Mechanical Engineering 3rd Semester in the comment section below.