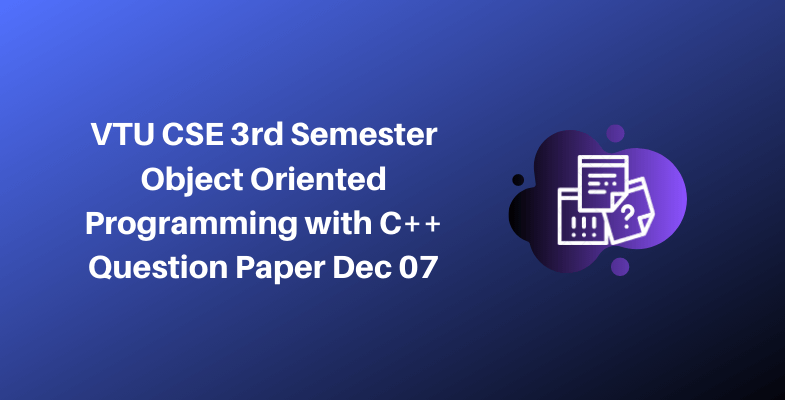 You must solve previous exam Paper to score the better mark in the Object-Oriented Programming with C++ semester exam, . It will give you information about the important chapters and concepts to be covered in all chapters.
Here we are providing you the complete guide on VTU CSE 3rd Semester Object Oriented Programming with C++ Question Paper Dec 07.
VTU CSE 3rd Semester Object Oriented Programming with C++ Question Paper Dec 07
You must have a Question Paper along with the latest Computer Science 3rd sem Syllabus to enhance your semester exam preparation.
Here you can check the VTU CSE 3rd Semester Object Oriented Programming with C++ Question Paper Dec 07
1 a. Distinguish between procedural oriented and object oriented programming.
b. With the help of examples explain:
i) # if def and # else
ii) new
iii) enumeration type
c. Explain how C++ supports encapsulation and polymorphism.
2 a. With example explain the different types of parameter passing mechanisms.
b. When will you make a function inline? Why? How is it defined in C++?
c. Write a function power ( ) to raise a number 6m' to a power 'n'. The function takes a double value for 'm' and integer value for 'n\ Use a default value of 2 for 4n' when argument is omitted. Write a main that gets the values of 'm' and ;n' from the user to test the function. (08 Marks)
3 a. What is function overloading? Illustrate with an example.
b. What is a generic function? Write a generic function to swap two data elements and demonstrate for float and character type data.
c. Distinguish between local and global objects.
4 a. Define a class by name complex. Write a member function to add two complex number and a friend function to subtract two complex number.
b. Define a class called student with register number, name, subject, test 1, test 2 and test 3 marks. Create an array of objects and display the students details with average test marks.
c. What is a constructor? How to invoke a constructor? With an example distinguish between parameterized constructor and a copy constructor.
5 a. List the operators that cannot be overloaded. Define a complete class by name distance with feet and inches as data members and overload + = operator to add two objects.
b. What is inheritance ?
6 a. Explain the different forms of inheritance with block diagram. How does C++ support single inheritance?
b. In what order are the class constructors invoked when a derived class object is created? Explain with an example.
7 a. Illustrate the use of writing virtual functions with an example program.
b. Define a class string that could work as a user-defined string type. Overload the operator » and «.
8 Write short notes on:
a. This pointer
b. Protected and private data members
c. Static data members
d. Nested classes.
We have covered VTU CSE 3rd Semester OOP Question Paper Dec 07. Feel free to ask us any questions in the comment section below.