UGC NET Exam Analysis & Paper Review 2019 | Questions Asked, All Days, Shifts
UGC NET Exam Analysis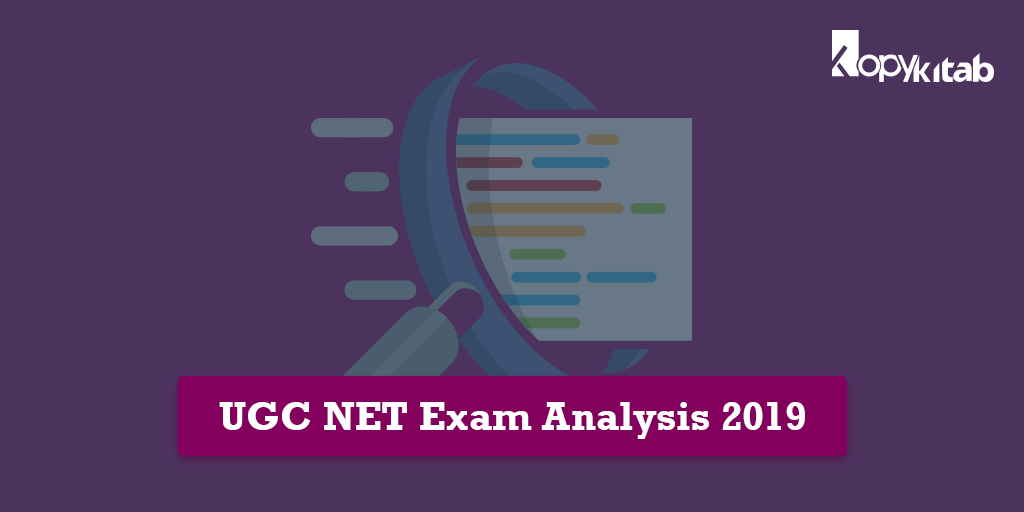 Want to pursue a career as a professor? The UGC NET exam has to be right up your alley. The National Eligibility Test is conducted by the National Testing Agency or NTA on behalf of the University Grants Commission (UGC) twice a year. For 2019, the first edition of the exam is currently underway, being held from June 20 to 28. Clearing the exam is mandatory to qualify for the post of 'Assistant Professor' as well as for 'Junior Research Fellowship and Assistant Professor' across universities and colleges in India. As you gear up to appear for this all-important exam that could set you up for a promising career as an academician, we bring you this quick UGC NET Exam Analysis for 2019 to help you brush up on the basics:
The Paper Pattern
First and foremost, let's focus on UGC NET Paper 1 & 2 exam analysis. This is crucial as NTA has taken over the conduct of this exam from CBSE 2018 onward. Even though the exam pattern itself remains unchanged, it is always reassuring to be 100 per cent sure about what awaits you at an all important exam.
The UGC NET is divided into two papers – Paper I is centred on General Aptitude whereas Paper II is based on candidate's chosen subject of specialisation. Both the papers are computer-based exams conducted in online mode. There are a total of 150 questions divided between the two papers – Paper I carries 50 questions and Paper II carries 100.
The time limit of Paper I and II is 60 and 120 minutes respectively, which means you get three hours to finish the test. There is a 30-minute break between the two papers, and the exam is held in two shifts:
Shift 1

09:30 AM to 10:30 AM and 11:00 AM to 01:00 PM

Shift 2

02:30 PM to 03:30 PM and 04:00 PM to 06:00 PM
UGC NET Marking Scheme
All the questions in the UGC-NET exam are MCQs. Candidates are awarded two marks for every right answer. There is no provision of negative marking here. However, the absence of negative marking must not be in any way misconstrued as an indicator of the UGC NET Paper difficulty level. UGC NET is one of the most challenging competitive exams with intense competition, and expertise in your chosen subject as well as thorough preparation for the general aptitude exam are a must to succeed.
NTA UGC NET 20th June 2019 Exam Analysis & Review
Paper 1 was generic in nature. Let's  take a look at the questions asked in this NTA UGC NET 20th June 2019 Online exam:
UGC NET 20th June Paper-I Shift-1 & 2 Analysis

Category

Number of Questions

Difficulty Level

Teaching Aptitude

11 to 13

Moderate to Difficult

Research Aptitude

7 to 9

Difficult

Reading Comprehension

5 (1 set)

Easy to Moderate

Communication

3 to 5

Moderate

Maths

4-5

Easy to Moderate

Logical Reasoning

7 to 8

Easy

Data Interpretation

5 (1 set)

Easy to Moderate

Information & Communication Technology (ICT)/ Computer Knowledge

2 to 3

Moderate to Difficult

People & Environment

3 to 4

Moderate to Difficult

Higher Education System: Governance, Polity & Administration/ Current Affairs

3 to 4

Moderate to Difficult

Total Questions

50 Questions

Easy to Difficult
The Paper-II of the NTA UGC NET Exam on 20th June 2019 carried multiple choice questions specific to the subject chosen by the candidate for Assistant Professor and Junior Research Fellowship (JRF) or Assistant Professor only posts. In Paper-II UGC NET June 2019 Exam, there were 100 Multiple Choice Questions (MCQs) of 2 marks each. Difficulty level of Paper-II was moderate to difficult. Check latest UGC NET books for paper 1 and 2.
Quick Tips to Attempt UGC NET Exam
No matter how high the UGC NET Exam paper difficulty for 2019, with these tips, you will be able to channelize all the preparation done so far to ace the exam:
You have a little over 1 minute to attempt each question, it is important to keep an eye on the clock to make sure you don't spend too much time on the first few questions and then rush through the rest of the paper.

Always solve the questions you know the answers to first. This will help boost your confidence.

Since there is no negative marking, do not hold yourself back from attempting all the questions asked in the exam. Go from the ones you are sure about to the ones you may know the answers to, and if you have time to spare at the end, use it to make wild guesses on questions you have absolutely no idea about.

Use the break between exams to clear your ahead. Do not over think your performance in the first paper and definitely do not browse through your notes or books for Paper II in a last ditch attempt at revision.

Develop a strategy at the beginning of the exam and stick to it.

Before you leave for the exam, make sure you have the necessary documents and the other essentials on you.

Walk into the exam hall with a 'Can Do' attitude. Do not let negative thoughts or self-doubt dominate your mind.
Have faith in all the hard work you have put in to prepare for this exam, and do your best! Share you Feedback and exam reviews in the comments section  below!
30% Off

Ebook

70% Off

Ebook

71% Off

Ebook

71% Off

Ebook

70% Off

Ebook

71% Off

Ebook

70% Off

Ebook

70% Off

Ebook

84% Off

Ebook

71% Off

Ebook