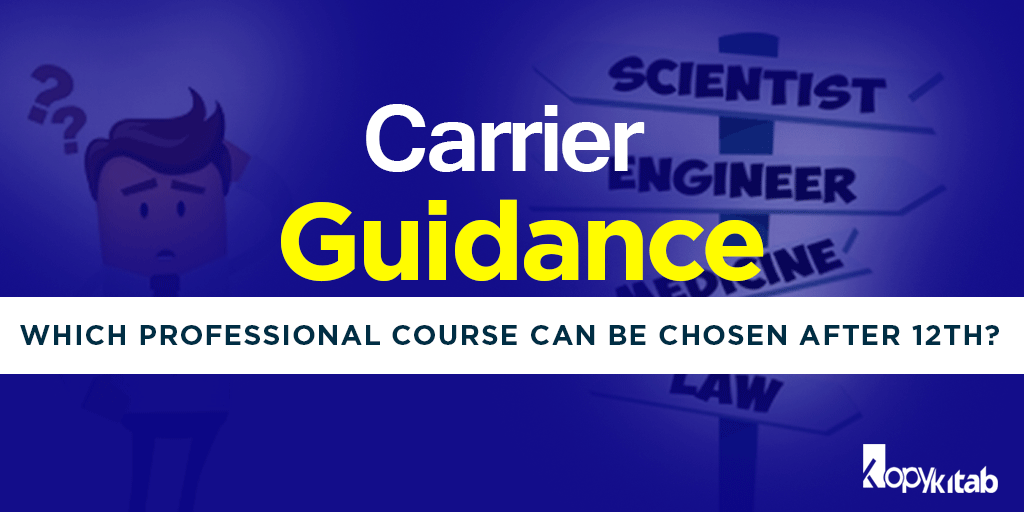 In the current competitive world, we can see that there is a lot of scope for various streams in career chosen after 10th or 12th. Class 12th is one major phase in every student life when he/she has to choose the best professional course suitable for him/her. In today's education field, we can see a wide range of options available to pick up after 12th like medical, engineering, teaching, banking, hotel management, fashion designing, journalism, many more. Here, in this blog you will get a complete idea on which course to be chosen after 12th, career options available for each course taken.
Career Options after 12th
Science Stream
If you have taken up science as a stream in your 12th, then you have a lot of career options after 12th. There is a list of professional courses available after 12th.
Medical – If you have taken up Biology as an optional in your 12th along with Physics and Chemistry main subjects, then you can take up medical as a profession. It is right path if you are keen to become a doctor or any medical related profession. After 12th, there are many entrance examinations through which you can get admission to many medical courses like MBBS, BDS, B.Pharma, Ayurvedic, Homeopathy, Biotechnology, Physiotherapy, B.Sc in Home science, Nursing, Paramedical courses.
        Entrance exams like NEET, AIIMS, JIPMER will offer you admission in various medical colleges across India to take up medical                 courses. All medical courses have a great demand in this growing world. Hence, choosing any of the above course will make you have            a  great future.
2. Engineering– If you have chosen Mathematics as an optional in your 12th along with Physics and Chemistry, then you can take up               Engineering as a professional course. Engineering is an evergreen field which will never lose its demand. After 12th if you take up                entrance exams like JEE, AIEEE, state entrance exams you can get admission to Engineering colleges across India. In Engineering,           you have a wide range of branches to choose which includes Electronics and Communication, Computer Science, Mechanical,                       Telecommunications, Civil, and many more. These branches can be chosen based on your interest. All branches have their own                       demand  in the market so you don't have to worry about the job opportunities.
Apart from engineering, you can even take up Architecture as a profession for which you need to take up B.Arch professional course. To get admission into Architecture colleges, then you need to write entrance examinations like B.Arch, JEE (B.Arch), state entrance exams for B.Arch.
 Commerce Stream
Business– If you are keen to start a business or get into administration field, then you can take up BBA, BBM, B.Com courses after your 12th. As there is a lot of demand for administration, students can take up this career for better future. You can learn business tactics and analytics in this field.
Accountant– This is also a great career to choose. You can work as an Accountant, Chartered Accountant or cost Accountant. These professions have huge demand in the market. There are lots of job opportunities available for these profession. After your 12th you need to crack few examinations like ICWA, other state level examinations to enter into accountant profession.
Hotel Management– If you are one among the person interested in hotel field, then this is the career you can choose. You can take up entrance examinations for hotel management courses. There are many courses available in hotel management field like chef, manager, accountant, and many more.
Digital Marketing– This is one of the top courses after 12th that has huge demand in the market. Every company needs to promote their brand in the market. Hence, digital marketing is the field which helps in increasing brand awareness among the public. So this field has lot of job opportunities. There is a Diploma in Digital Marketing available which allows you to become a digital marketing executive.
Arts Stream
Teaching– Giving education is the greatest of all. If you are interested in teaching, then you can take up Bachelor of Arts as a professional course after 12th. After B.A. you can do further teaching courses to become a valid recognized teacher. There are many job opportunities for teaching profession.
Fashion Designing– This is one of the creative career option. If you are keen in designing fashionable, trendy clothes then this is the right career. There are many colleges across India offering Bachelor of Fashion Design courses. You need to clear entrance examinations for getting admission into fashion designing courses.
Journalism and Mass Communication– If you would like to become a social figure, entering into news, media field then you can take up this course. You can become a journalist, news reporter, or even enter into politics by choosing this course. This field has lots and lots of demand in the market.
Career in Government Jobs
Apart from the above listed streams and professional courses, you can take up government examinations to enter into government jobs like Clerk, probationary officers, railway jobs, PWD jobs, bank jobs and many more. There are certain eligibility criteria for taking up government exams. You can check out latest government jobs and apply for the post you are interested in. But, anyone can take up government exams to enter into government sector. Even science stream students can take up government exams immediately after their 12th or graduation to get job in government sector. There are huge opportunities available in government sector.