Kirjasto – ebook Library from KopyKitab
Kirjasto

– ebook Library from KopyKitab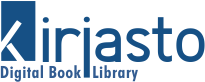 For the very first time in India KopyKitab launches Kirjasto which is an eLibrary service platform for Institutions and professional organizations. Its for the 1st time in India such a product has been launched which enables Institutions and organizations to open its own customized ebook library at a minimal cost in no time. There are several benefits like –
Thousands of free ebooks and Journals
Anytime Anywhere Access
Customized Content
Previous Year Question Papers
Syllabus
No need to make individual purchases
All the content at one place
There are already tens of millions of e-book lovers, and their ranks are sure to be boosted by the latest iPad, tablets, Smart Phones — along with improved ebook reading devices available in the market at present.
In a society where bookstores disappear every day while the number of books available to read has swelled exponentially, libraries will play an ever more crucial role.  Even more than in the past, we will depend on libraries of the future to help discover and curate great books.   Libraries are already transforming themselves around the country to create more symbiotic relationships with their communities, with book clubs and as work and meeting spaces for local citizens.
For publishers, the library will be the showroom of the future.  Ensuring that libraries have continuing access to published titles gives them a chance to meet this role, but an important obstacle remains: how eBooks are obtained by libraries.
ICSI becomes the first organization where Kirjasto was implemented. Depicted below is the screen shot of the library and the way it will look.
How to Install Kirjasto ?
Kirjasto can be installed in minutes in the library or for the organization. Just call + 91 73545 73545 or shoot a mail to info@kopykitab.com. However, looking at the increased demand we have decided to implement it in only top 25 Institutes and organizations across India. This will enable us to provide better services to the institutes where Kirjasto is installed.