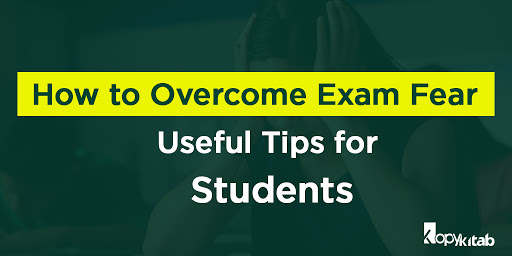 How to Overcome Exam Fear & Stress: Exams have a way of invoking feelings of fear, stress, and anxiety. Irrespective of whether you are an ace performer or an average student, or whether you are in the thick of competitive exam preparation, board exams or just your annual school examination, the element of stress and fear remains a constant. While some amount of fear is necessary to keep you focussed on your exam preparation, the excess of it can not only be detrimental to your performance but also your health. That's why we can have compiled some useful tips that can help you beat the exam fear successfully:
How to Overcome Exam Fear & Stress
Check useful tips from below to overcome your exam fear and stress.
Focus on Your Preparation
The first and the most crucial step in overcoming exam fear is to be well-prepared for your upcoming test. If you are well-versed with your syllabus enough to be able to recall concepts, answers and solutions related to different topics and subjects without so much as referring to a book or your notes, it will automatically bring you peace of mind and give your confidence levels a big push.
However, such a thorough preparation level doesn't come easy. It calls a great deal of hard work and a consistent, smart and well-planned study plan. Here are a few handy tips to help you achieve that:
Set out by creating a realistic time table that you will be able to stick to day-after-day for months on end. It is easy to set the bar too high in your exuberance to give your best but sticking to such schedules gets challenging soon. If you are unable to cope with your study schedule, your preparation can go downhill quickly.
Whether you are preparing for entrance exams or school examination, consistent and repeated revision is the key to internalizing your entire course material. Don't want until you have finished your entire syllabus to start revising. Instead set aside sometime each week to brush up on everything you have studied.
Source your study materials This is especially important for competitive exam preparation. In addition to best-seller books for competitive exams, you must also explore online books and other resources to enhance your knowledge of the subject matter.
Students preparing for high-pressure examinations like Class 12 board exam and Class 10 board exam too must consider polishing their understanding of their course materials by supplementing school books with additional study materials such as teachers' notes, ebooks, online books, and tutorials.
Test your preparation from time to time by attempting sample papers, previous years' papers, and mock tests. Nothing gives you a better reality check on your preparation levels. Performing well in these tests is sure to help you overcome exam fear.
Don't hesitate to reach out for help. If you find yourself stuck on a particular topic or concept, reach out to your teachers, mentors, peers or refer to online study materials to make headway.
Keep Calm
Keeping calm when you have a big exam coming up can seem easier said than done, but keeping your nerves in check is essential for preparation as well as performance on the day of the exam. To calm your mind, you can:
Try some deep breathing exercises to start your day with or just before you sit down to study. You'll be amazed by the impact of this simple practice in improving your focus.
If exam fear and anxiety is hampering your ability to function normally, investing just about 15-20 minutes a day in meditation can do you a world of good.
The idea of meditation or breathing exercises often does not resonate with youngsters. If you are one of them, you can indulge yourself in your favorite sport or hobby for a few minutes each day to channelize your nervous energy in the right direction.
Refresh your mind by reading some General Books.
Take Care of Your Body
A healthy mind in a healthy body – we have all grown up hearing this age-old adage. Your mind won't be able to function to its optimal capability if your body starts to feel worn down and exhausted. Therefore, it is important to:
Watch what you eat. Giving your body the right kind of nutrition is essential to help it cope with all the hard work that you need to put in as well as some inevitable stress and anxiety that comes with exam preparation.
Get enough sleep. While burning the midnight oil is all very well, there is no point in staring at books really if your mind has shut off. At least, seven hours of uninterrupted sleep at night is necessary to keep your body healthy and mind fresh.
Starting your day with some form of exercise also goes a long way in keeping your fear and anxiety levels under check.
If despite doing it all, your mind seems to be crumbling under fear of an upcoming exam, remember there is no shame in reaching out for help. Talk to a counselor, discuss it with your teachers or parents or take a session or two of therapy, because no matter how hard you work, you cannot achieve your objective unless you are in the right mind space.